Overview
Smilegate Megaport released Epic Seven on August 30, 2018. It is a role-playing turn-based strategy video game available for both Android and iOS users. The players can also play Epic Seven on PC. In this game, there are heroes. The first step to start the game is to choose and build a team of heroes. There are both PvE and PvP combats in this game. Also, it contains multiple missions. In this article, we discuss the Tier-list of Epic Seven.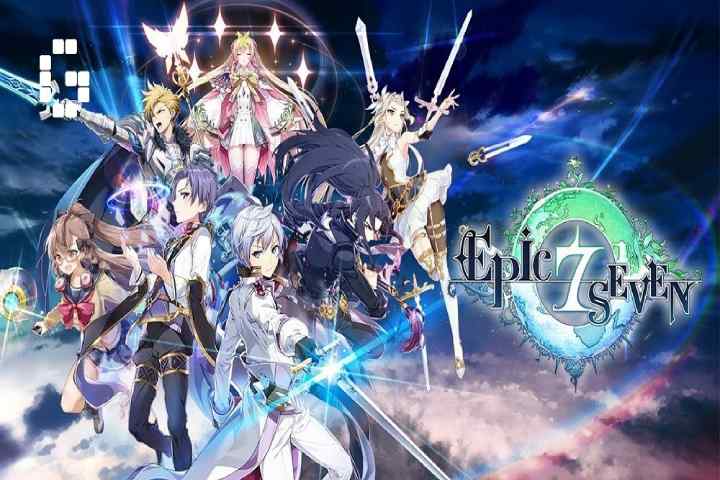 Tier List
Epic Seven is a character-based game, and this game is full of characters or heroes. The heroes and characters are arranged in different tiers according to their abilities and their grades. There is six tiers in Epic Seven, the S-Tier, A-Tier, B-Tier, C-Tier, D-Tier, and F-Tier. Each tier has multiple heroes. The heroes of different tiers have different performances in the battle. In this game, in the start, the players have to select more than 4-characters. The players can also upgrade their heroes and upgrade their skills for better performance. To play this game in a particular and best way the players must understand each character's ability. It will help the players make a strong and powerful team of heroes and win the match. Here we discuss the top heroes of each tier.
S-Tier
The S-Tier heroes are considered the most powerful and excellent heroes. The S-Tier contains rare heroes. There 4 and 5 stars heroes in this tier. If you become successful in getting more S-Tier heroes, then probably you will get a good rank in the game and perform in a better way.
Ravi
Ravi is the best warrier character of S-Tier. This character has the best skills effects. It is considered the best damage dealer and a good tank.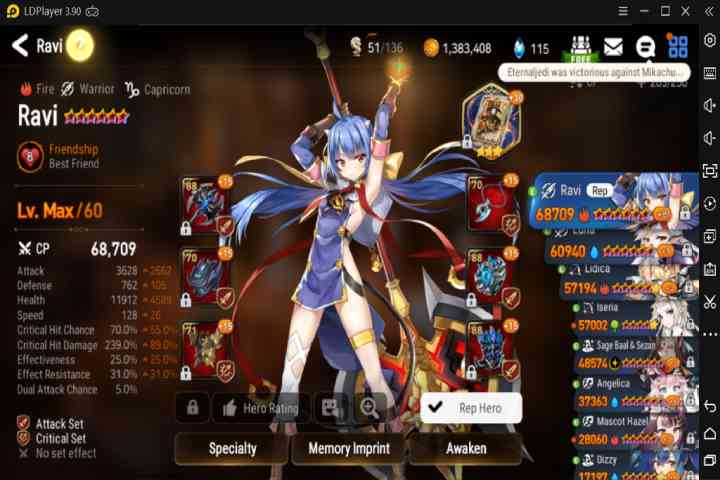 Bellona
Bellona is a ranger class hero of S-Tier. It can shreds the enemy defense, and it is also it is a high damage dealer character.
Sigret
The secret is also a warrior class character. It can damage the enemy in the best possible way. Additionally, it can penetrate in defense of the enemy.
Angelica
Angelica is a soul warrior hero of S-Tier. It is regarded as a good tank. It also can stun enemies. This character has an additional barrier and immunity buffs abilities.
Also Read: How to Choose a Gaming Laptop
A-Tier
The A-Tier also contains the best heroes. These heroes are used to make the current meta of the game. These heroes are powerful and comparable with S-Tier heroes.
Luluca
The Luluca is a mega-class hero. It can break the defence of enemies. It can also buff Its allies.
Clarissa
It is a warrior character of A-Tier. It has powerful skill effects. It has the best AoE skill to attack enemies. It can debuff the defence of enemies.
Armin
It is a knight class-based hero with the effect of the best and powerful skill. It can heal its allies and damage a lot of its enemies. It is also a good tank hero.
B-Tier
In B-Tier also some good characters are available for players. The players can use the heroes of B-Tier as complementary units. These heroes help the S and A-Tier heroes in the game. Before selecting the heroes from B-Tier, they must know their ability.
Falconer Klun
It is an expert in provoking and dispelling. It can also reduce the damage of enemies and protects their team members. It is best in both PvE and PvP modes.
Charlotte
It is a 5-grade hero of B-Tier. This character has very strong defense and attack abilities.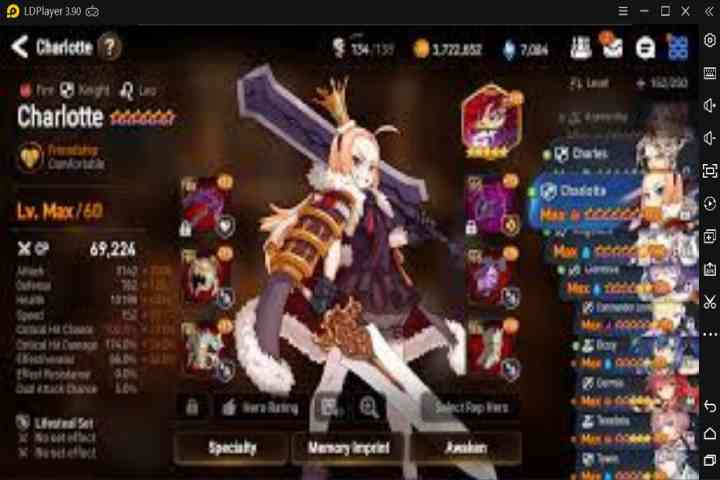 C-Tier
The C-Tier contains the average heroes. The C-Tier heroes are mostly 3 or 4 stars. But it also contains some 5-grade heroes.
Cecilia
Cecilia is a 5-grade character of C-Tier. It is a tank hero and reduces the attack of enemies. It also has the best AoE skills.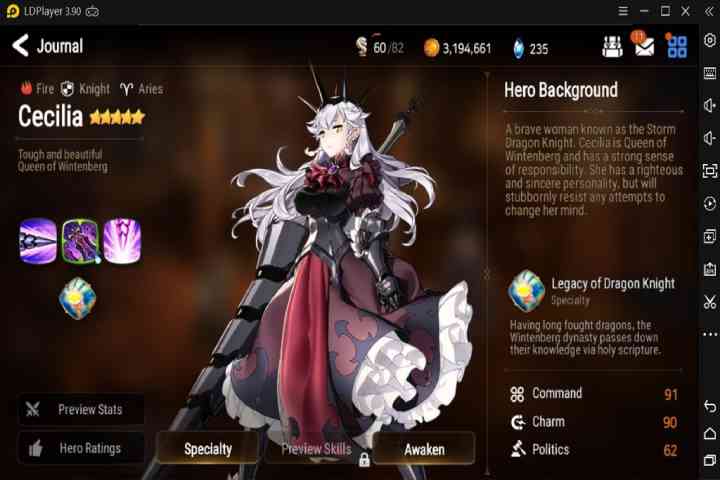 Ambitious Tywin
It is also a 5-grade hero. It is famous due to its attacking and defense abilities.
D-Tier
The D-Tier heroes are considered as below-average characters. These heroes do not have powerful combat abilities. There is no 5-grade character in the D-Tier. All the characters are 3 or 4 grades. The examples of D-Tier heroes are Roman, Corvus, Zerato, etc. We do not recommend D-Tier heroes.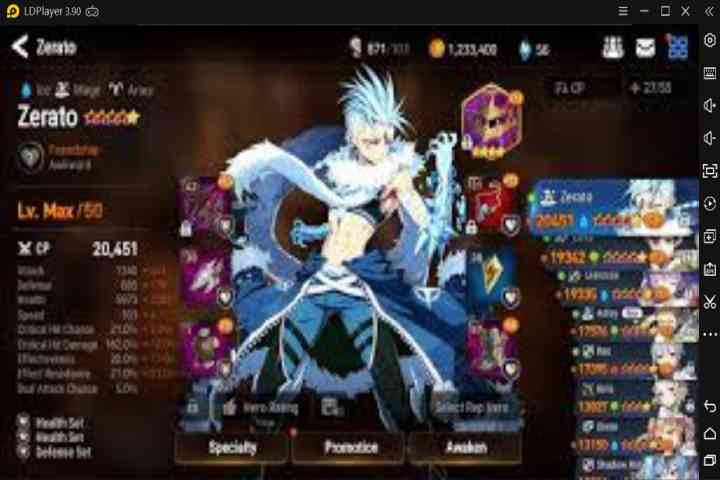 F-Tier
The F-Tier heroes are considered useless characters. These heroes are may be helpful at the start of the game, but overall these heroes are bad. It mostly contains the 4 and 3 gardening heroes. The F-Tier heroes are Zeno, Maya, Cartuja etc.
How to download and play Epic Seven on PC?
Epic Seven is a rapidly growing role-playing game. This game got good fame in recent times. This game is available for both Android and iOS users. There are a few limitations to play this game on mobile phones. But the question is how to play this on PC. This question has a simple and straight answer. It is very easy to download and play Epic Seven on PC. To play Epic Seven on PC, the players have to install an android emulator. There are many android emulators available in the market for PC gaming. But the free android emulator is LDPlayer.
Introduction to LDPlayer
LDPlayer is an android emulator; it is used for PC gaming, and it is also used to run android apps on PC. This android emulator is free of cost, and also it has multiple unique features. LDPlayers has two versions. So the players can download their desired version according to the requirements of their system. It has a simple interface and also has useful settings. LDPlayer supports external game controllers to allow its users to play the game with more enjoyment. It has clear and beautiful graphics, which make it more popular.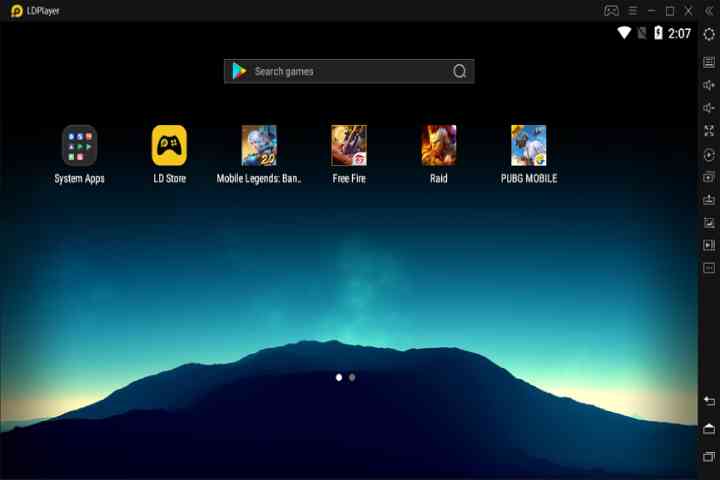 How to download LDPlayer?
To play android games on your PC, you need to install LDPlayer on your PC. It is a very simple way to install this android emulator on your PC.
Visit the official website of LDPlayer.
Choose your desired version of LDPlayer and click on it.
After this, click on the download button.
It will be downloaded in a few seconds.
After downloading, the next step is to install LDPlayer on your PC.
Open the emulator and enjoy your desired android games on your PC.