Imglarger is a smart AI-powered tool that boosts your image quality automatically. In a short time, low-resolution photos become crisp, high-resolution works of art. Imglarger's cutting-edge technology makes it possible to enlarge images without compromising clarity. Blurry pics? They are restored to sharpness by Imglarger. This Imglarger review looks into its features, showing its magic in revitalizing photos. Test out the various editing features it offers. Simply enhance photos with AI using Imglarger.
What is Imglarger?
Imglarger is an AI Image Enhancer that converts regular, blurry, imperfect photographs into outstanding ones. This tool allows extreme detail capturing by making photos more vivid, clear, and sharp. You can work with excellent photographs with up to 8k resolution. Imglarger will cancel out all the blurriness and clarify the background so that every detail stands out.
The AI integration in this tool makes photo-editing easier and simpler than ever. You can see even low-resolution pictures more clearly once Imglarger has improved their quality.
The Digital Era and Photo Enhancement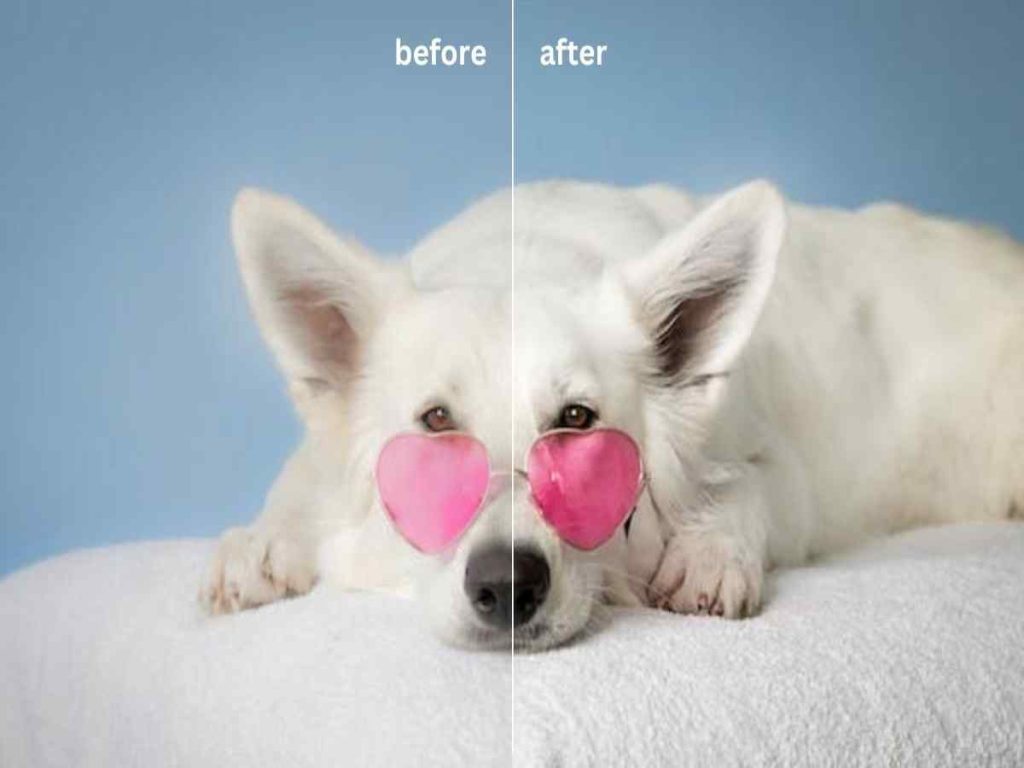 The digital world is competitive, so ensuring your visuals stand out is crucial. Making images more compelling and meaningful relies heavily on image enhancement. As people are connected online, communication has become more digitalized. As a result, it is more important than ever for images to be striking.
Image refinement, clarity, and visual appeal can be improved by using tools. These impactful and engaging images help to convey effective messages.
How Does Imglarger Work?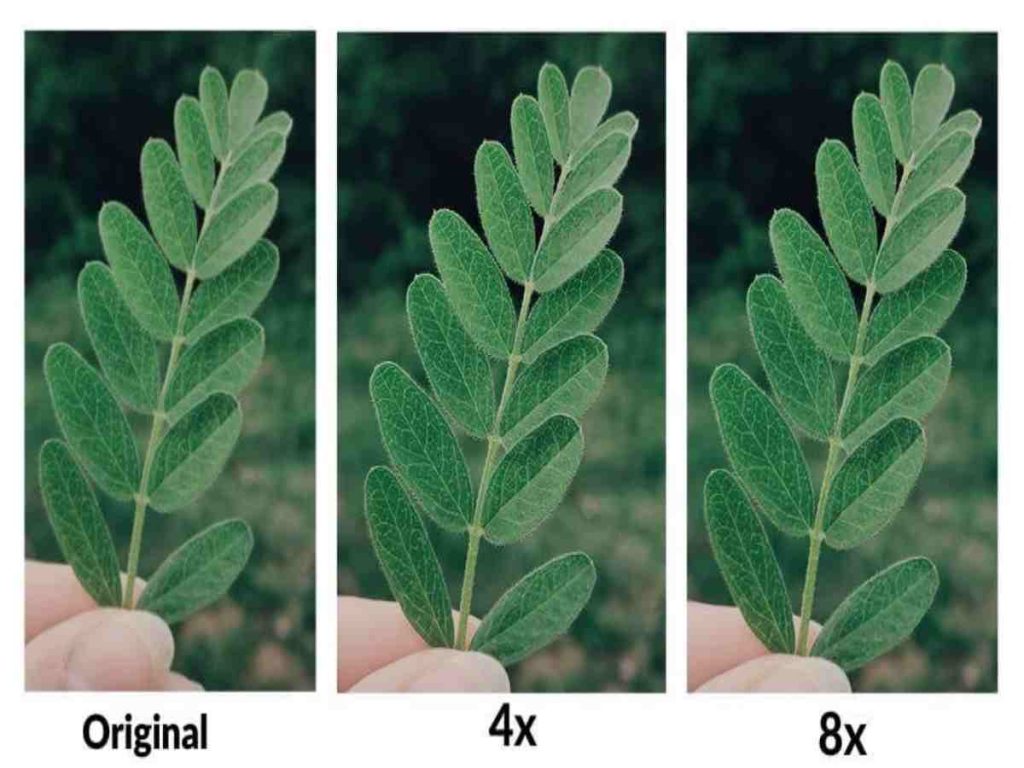 Imglarger is one of the best free image enhancer that utilizes state-of-the-art AI technology to improve your image quality instantly. When you upload an image to the software, this AI Image Enhancer automatically enhance the resolution according to your needs. Each pixel of the image is scrutinized, and all details are examined. The image is then precisely and accurately reconstructed.
Using the Enhance Photo with AI function, you can make the image clearer. It has sophisticated algorithms that increase image resolution and enhance image quality fast. Take advantage of all these exciting features today! The pictures will be larger and more vibrant, clear, and crisp.
A Step-by-step Guide to Your First Enhanced Image
Step 1: Uploading Your Image
Simply accessing Imglarger's intuitive user interface is the first step in the magical image enhancement process. Select the image you'd want to edit and click the "Upload" button. Its user-friendly interface makes it easy to enhance your images using Imglarger.
Step 2: Selecting Enhancement Options
When you upload an image to Imglarger, you can edit it with a variety of effects. From the usual increments up to 8k, you can choose the image quality you want. Don't pass up the chance to quickly fix blurry images with only a few clicks.
Step 3: Witnessing the Transformation
After you've customized Imglarger's AI Photo Enhancer to your liking, let it do its magic. Observe the fascinating shift as the algorithms dissect and rebuild your image. You will now be able to see every detail of your once murky and fuzzy photo with newfound clarity.
Step 4: Download and Share
After the improvement process, you can confidently show off your refreshed appearance. Save your improved file by clicking the "Download" button. Use Imglarger's cutting-edge technology to share your sharp image with friends and followers.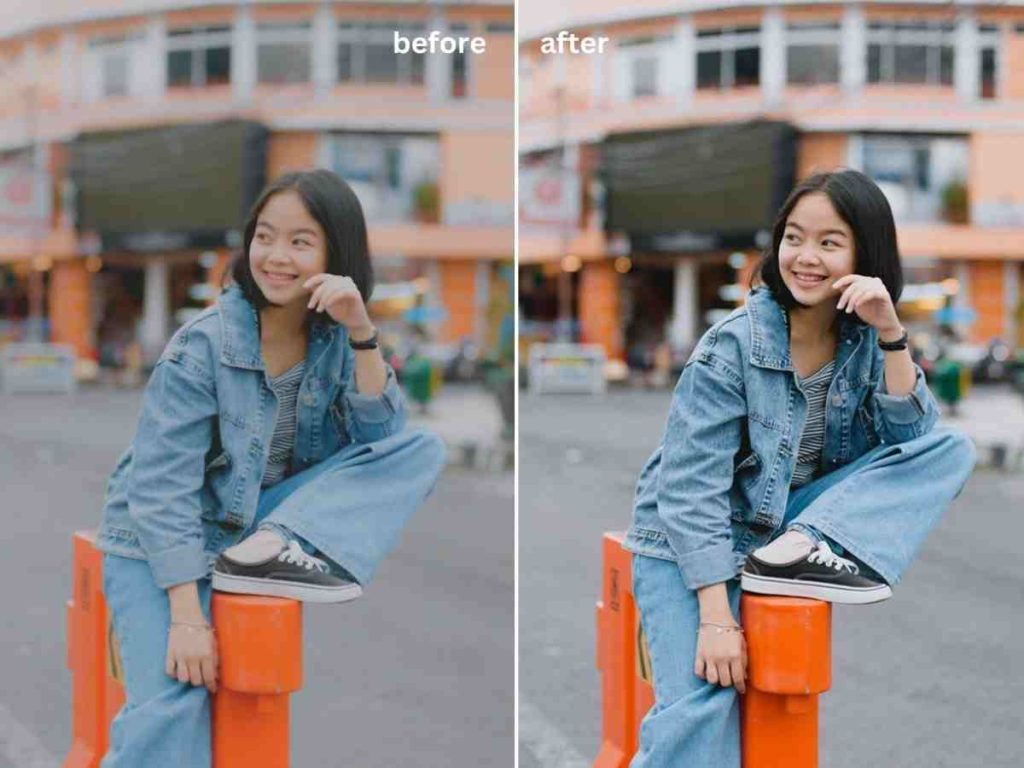 Features and Benefits
Quality Enhancements
The primary advantage of Imglarger is the speed with which image quality may be improved. Imglarger's AI Image Enhancer may clear the blurry photo, and work marvels, regardless of the starting point. The technology's careful pixel analysis results in Sharper, clearer, and more aesthetically pleasing images. This makes it possible to transform flawed photographs into stunning works of art.
Speed and Efficiency
Imglarger is unparalleled in its speed and effectiveness in enlarging images. The time spent editing images is cut in half thanks to the program's cutting-edge AI algorithms and processes. Imglarger does what would often take hours of laborious editing with just a few clicks. This extraordinary speed enables you to enhance image quality fast and optimize multiple images effortlessly, simplifying your process and saving you precious time.
User-friendly Interface
Imglarger has an intuitive UI that even non-techies may use with ease. The intuitive layout guarantees that editing your photographs is a breeze. You may start improving your pictures with self-assurance because of the clear guidelines and simple controls. The intuitive design of Imglarger's interface makes it suitable for both experienced photographers and first-time users.
Batch Image Enhancing
With Imglarger, you may batch enhance multiple images at one time. You can submit several photographs simultaneously and improve them with the batch image-enhancing function. This is a game-changer for those who work with many photographs, such as photographers and designers. Imglarger's capability to enhance image quality fast extends to batch processing. This guarantees all your pictures receive a similar level of quality improvement efficiently and effectively.
Automatic Workflow
The automatic procedure of Imglarger makes it easy to improve your photographs. Once your photographs have been uploaded and your settings set, the program will begin applying the adjustments automatically. Since no complex manual adjustments are required, enhancing an image is simplified using this hands-free method. Imglarger's automatic workflow ensures consistent results with the least amount of work, whether you're enhancing one image or a batch.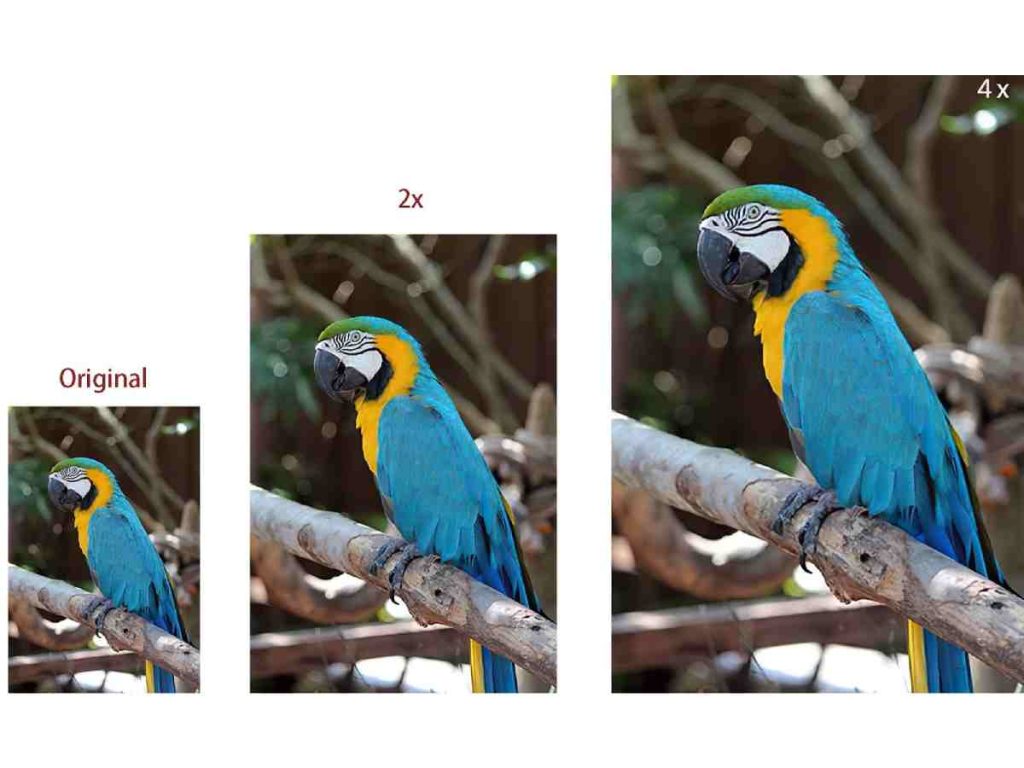 Practical Applications in Various Industries
Graphic Design and Advertising:

Designers and advertisers can benefit from using Imglarger. It crafts high-quality images that catch the eye with rich detail.

Portraiture and Photography

: Imglarger is favored among photographers. Increased sharpness and clarity improve the viewer's ability to perceive the subjects' individuality.

Real Estate:

Helping real estate agents, Imglarger. Stunning pictures accompany the listings, attracting more consumers' attention.

Print and Publication:

Imglarger guarantees high-quality printed materials. It improves picture quality, making your content look more professional.
Cost and Pricing Structure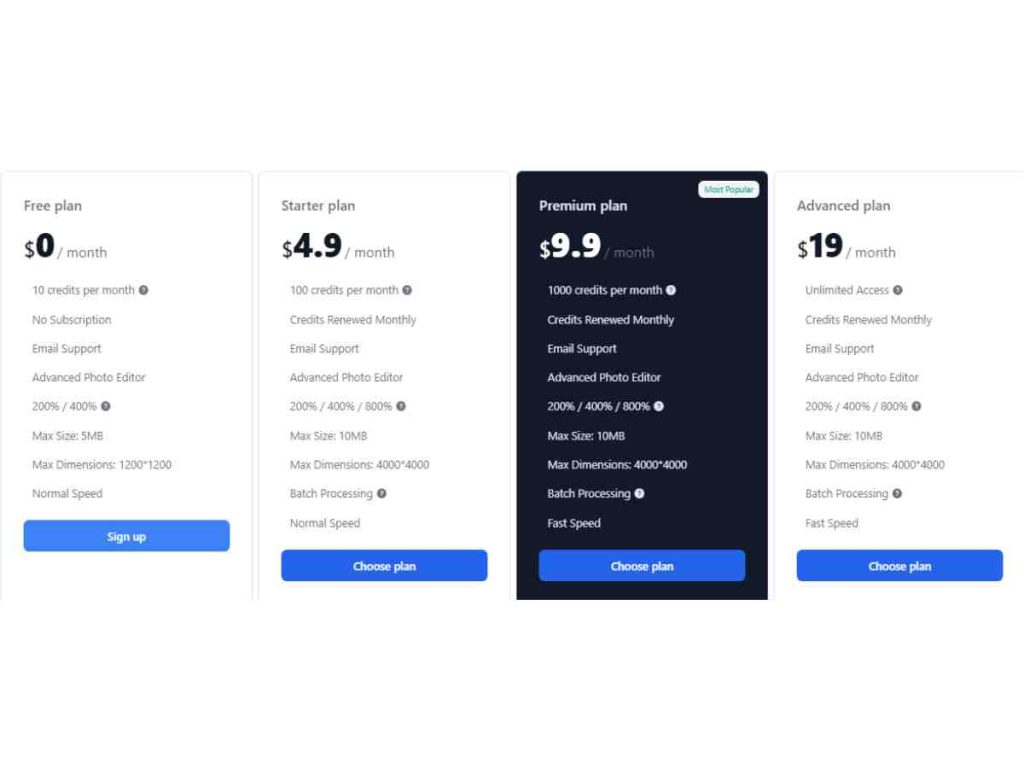 Here are the three pricing plans that Imglarger offers:
Starter Package

– For only $4.99/month, gain access to an advanced photo editor. You'll also receive 100 monthly credits, additional email support, and much more. This plan is very flexible, making it perfect for beginners or occasional users. It offers bonuses of 200%, 400%.

Premium Package

– For only $9.9/month, you'll get added features with the ones provided in the starter package. Get access to faster batch processing and 1000 more credits. This plan is right for you if you have moderate image enhancement requirements.

Advanced Package

– For only $19/month, you can get unlimited access, faster batch processing, and many other perks. If you want to maximize your potential in every way, this is your plan.
Considering all factors, the Premium Package is the ideal alternative, thanks to its extensive credits, speedier batch processing, and reasonable price.
Imglarger Enhancing Photo FAQs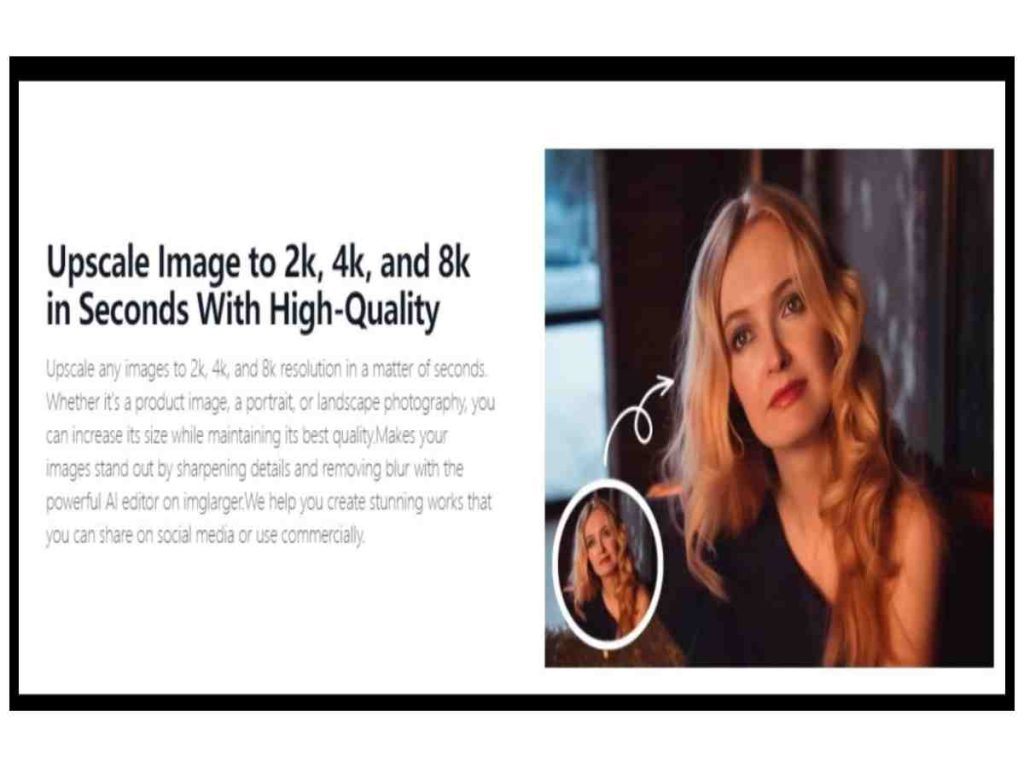 How secure is Imglarger with user images?
Imglarger highly values user anonymity. Your privacy is ensured by automatically deleting all uploaded photographs after processing.
How does Imglarger fix blurry photos?
Imglarger can successfully sharpen blurry areas and produce clearer results by intelligently enhancing pixels based on their analysis.
Can I use Imglarger on mobile devices?
Yes, if you use PhotoAI, the mobile version of Imglarger. You may use the same robust capabilities to improve your photographs wherever you go by visiting PhotoAI.
Why is Imglarger better than a traditional photo enhancer?
With its speedier processing, easier user experience, and AI-driven precision, Imglarger outperforms conventional enhancers like Photoshop.
The verdict: Is Imglarger worth the investment?
The revolutionary AI technology behind Imglarger, its intuitive design, and its wide range of uses make it a powerful resource. Imglarger is a dependable, efficient, and spectacular solution whether you're a professional photographer, designer, or person looking to improve image quality quickly and make hazy photographs clear. It's an excellent investment with multiple benefits and guaranteed improved picture quality.