By now, we all know that there is constantly a new social media platform on the scene. With so many successful platforms like Facebook, Twitter, and Instagram, it can be extremely difficult for newbies to compete. These social media giants have taken over and it takes a creative and unique concept for a new platform to really succeed.
With influencer marketing rising to become one of the best techniques for businesses to meet their goals in recent years, it's important that marketers are keeping an eye out for emerging social media platforms. So, let's have a look at the apps to consider for your 2021 marketing strategies.
TikTok
The first on our list is, of course, TikTok. Although it has been around for a couple of years now, 2020 is when it really took off. By December, TikTok had become the most downloaded app of the year. With 9 out of 10 users opening the app several times a day, it's definitely worth your time to familiarise yourself with the platform.
If you remember the platform Musicaly.ly, and Vine too, then it's pretty much an app that incorporates both types of content. Short videos can be posted with the addition of sounds and music, as well as special effects and filters. The app allows users to become fully creative and that's why there's certainly something for everyone. Some of the most popular content includes pranks and tricks, dancing trends, viral challenges, tutorials, recipes, and much more. Whether you're into cooking, gaming, or gardening – there's a community for you!
For brands, TikTok has become an amazing place to introduce marketing techniques. Businesses are setting up their own accounts to create rather interesting content. For example: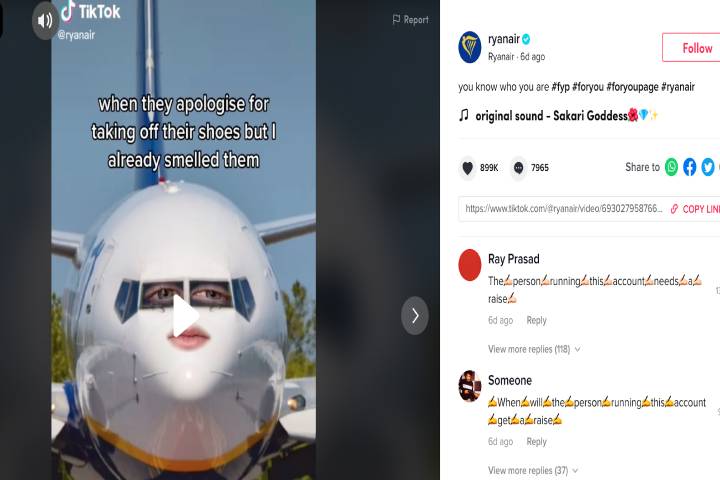 A bit of a strange one there, but the engagement has been incredible whilst this airline attempts to create funny content during current times.
On the other hand, brands are working with  TikTok influencers to reach mass amounts of potential customers. In the short space that the app has been around, it has become the platform with the highest engagement rates. Ideal for influencer marketing, this has led to brands working with influencers from varieties of sizes and categories, creating challenges, trends, and hashtags to encourage audience participation and increase brand awareness as a result.
Instagram Reels
Next up, we have Instagram Reels. Although Instagram as a platform is not new itself, the Reels feature is. Since Instagram began, it has constantly been striving to improve, by providing new features regularly. We have seen the likes of Instagram Shopping revealed, which has been a huge benefit for brands and influencers by incorporating an ecommerce area into the platform.
Reels was released in most countries just last year. This feature is Instagram's direct competition with TikTok, and it seems to be really taking off. With similar short-video content incorporating sounds and effects, it could seem more challenging for Reels to succeed. But, as Instagram is already so popular, it means that users now have this function within the same space, and do not have to leave to enter a different app.
In addition to this, there have been troubles associated with TikTok being banned or threatened to be banned in certain countries. For example, the TikTok ban in India has resulted in Instagram Reels now being the go-to for this type of content. Another great benefit is that brands who are already working with Instagram influencers can make use of Reels, and not necessarily need to search for influencers on a different platform for video marketing.
Clubhouse
Moving on to an entirely new platform, we can consider how Clubhouse might be perfect for you. Currently, Clubhouse has been released to users on an invitation-only basis. This is while it is trialed, as the owners have stated that they want to ensure they get it 'just right' before the entire public release in 2021.
This platform takes a different approach to generic social media, and we have yet to establish how brands can best use it in their marketing strategy. Clubhouse is an audio-based app, which can be used for discussions on everything from educational purposes to social and entertainment purposes. It's kind of like a podcast, except with a live audience. You can find speakers presenting all forms of content with live interaction from the audience.
Over 50% of all US homes are fans of podcasts, and this is on the rise. We can imagine that Clubhouse is going to be popular with these homes and many more social media users, so be sure to watch out for the release of this exciting prospect.
Twitter Spaces
Here's a platform that you likely haven't heard of yet, due to its launch at the very end of 2020. We know that Twitter has been around for a long time, but this new feature of the platform is actually quite similar to the idea of Clubhouse. Twitter has remained pretty consistent throughout its time, as a text-only application, with the ability to post photos and videos, but nothing live.
So, Twitter Spaces is the area that incorporates audio-only content, as well as being in real-time. It is where live discussions and debates can take place, with the hope for users to be able to take part in entertaining informal chats, educational training sessions, live Q&A's and more. Like Clubhouse, with it currently being in its trial period, it is only open to users through invitation. However, it will soon be available to all Twitter users.
Similar to Instagram Reels, one of the great benefits for brands is the opportunity to use Spaces with Twitter influencers that they are already working with.
Triller
Video sharing app Triller has been around since 2015. However, the huge growth rates experienced in 2020 could be put down to the hard work dedicated to providing users with an app that overcomes the problems associated with its rival, TikTok. Similarly, users can post videos to popular sounds and music, becoming creative with their editing skills using the effects provided on the platform. However, alternatively to TikTok, users have loved the option to post videos that are longer than 15 seconds, being able to dance to a full song.
Triller was apparently the most downloaded app in August and claims to have 65 million active monthly users. The app is definitely growing in popularity with brands and influencers too, who seem to be using it alongside TikTok. For example, Josh Richards with 25M followers on TikTok, became a brand advocate for Triller, with his announcement bringing a huge number of his followers over to the app.
Conclusion
It's clear that social media is constantly changing and updating to meet consumer needs. Popular apps will continue to release new features, whilst brand new apps will emerge offering unique ideas. Brands need to keep up to date with emerging platforms and understand whether their audience is the type of user to make the swap. In doing so, you can stay ahead of your competitors and be one of the first to engage with influencers in a new space.
For the platforms that are already available such as Instagram Reels and TikTok, we would suggest that you head over to Heepsy to find influencers that you can begin working on a campaign with.