While there are many types of printing processes, there is one that adds a touch of shine and brilliance, transforming even the most mundane of print projects into a thing of beauty. Foil lettering has been around for many years, but modern machines now make it possible for companies or individuals to mass-produce beautiful print jobs. This guide will help beginners better understand how these machines work.
How Did Foiling Originate?
Most people have at least heard of gilding, which is the process that places f genuine gold leaf over intricate lettering and designs on paper. As the printing press came into existence, it became popular to gild lettering on books.
Often, the gilding process was also combined with embossing, which allowed for a more detailed picture or lettering. Although much of the gilding of the early eighteen hundreds was done by hand, today's machines take over the work. Those who are interested in learning more from sblmachinery.com should visit the website.
The Foiling Process Has Changed Dramatically
Today, foiling rarely uses real gold or other precious metals because of the cost. There are synthetic metallic that are used in sheets, and these sheets of faux metal are then covered with colored sheets, to offer a wide range of designs and effects.
What was once a very laborious process that took hours to finish can now be completed in a matter of minutes. With the design template in the machine, workers simply need to monitor the hot foil printing process for quality and alignment.
Today, printing machines can handle all the work, from embossing to adding foil. Foil stamping can be done quickly and efficiently with high-powered machines that can produce hundreds of print jobs per minute, depending on the detail.
Companies such as SBL provide machines that can even handle multiple print processes at once, making foil printing much more efficient and even economical. These machines are used by many companies for labeling their product boxes or for creating custom orders.
Also Read: How Electronic Wearables Help Us To Get Fit
Types of Foil Machines and How They Work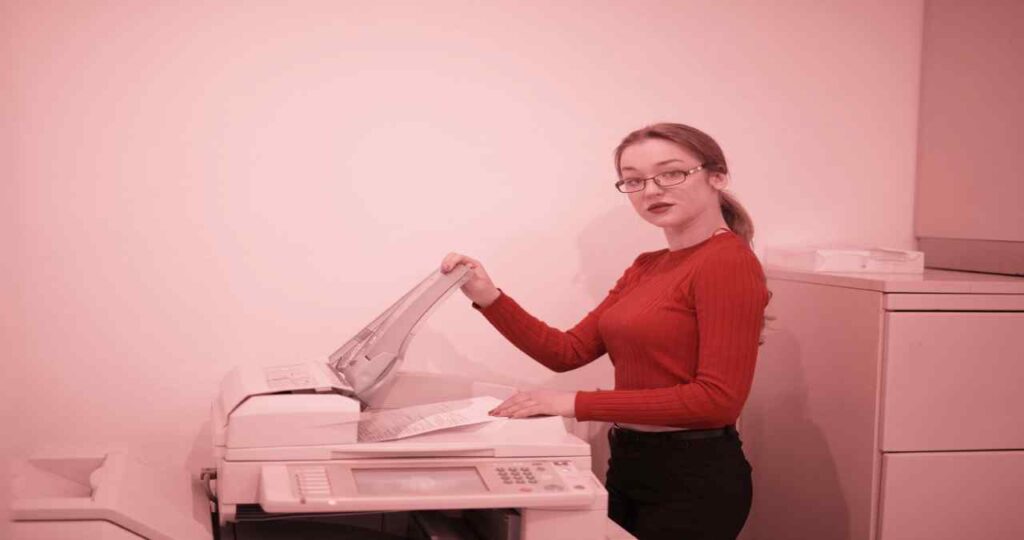 No matter the type of hot foil machine, the process of printing is roughly the same. There are three main types of hot foil machines and they include straight stamp, roll presses, and clamshell presses. Straight stamp machines are primarily used in commercial applications.
Dies are made using acid etching. The die is made of metal and becomes the blueprint for telling the machine how to perform the hot foiling. The most inexpensive of dies are made of magnesium and usually only last one printing cycle. More expensive dies can be used over and over and are normally made of metals like copper or brass, with brass being the strongest. Even with inexpensive dies, it is possible to use them for multiple short-run print jobs.
The basics of foil machine operation center around the die. The die comes into contact with sheets of foil and then transfers a thin layer onto the paper for the print job. The reason the process is called hot foiling is that the metal die is heated, allowing it to transfer the foil easily.
Types of Foil
There are now many types of foil, including the traditional, that mimic precious metals like gold and silver. The following offers information on some of the foil materials that can be used with hot foil machines. The type that is chosen for a print job will depend on the uses and needs of the customer.
Metallic Foils. This type of foil is one of the most popular and a more traditional approach to hot foil stamping. Metallic foils are often available in copper, gold, and silver.
Pigment Foils. These types of foils do not have the look of metals, but they are available in both glossy and matte finishes, with a wide array of colors.
Pearl Foils. Pearl foils, as the name implies, leave a pearly finish. These give a more textural shine and are ideal for elegant invitations and a wide array of print jobs that need a beautiful touch.
Holographic Foils. This type of foil is one of the most impressive because, at first glance, it appears to be silver in color. When the foil hits the light, it shoots back a rainbow of colors at the viewer, offering an intense impression some other foil sheets cannot.
What Types of Print Jobs Use Hot Foil Machines?
There is a multitude of print selections available with hot foil machines, which makes them an option for both personal and commercial needs. Companies like SBL have designed and manufactured hot foil printing machines that can meet the demands of large commercial customers.
Packing is one of the most common print types for hot foil machines, especially on the commercial level. Many companies use these machines to create custom packaging that reflects the name of their business or the products they produce. Hot stamping machines can print on a variety of paper-based mediums.
Promotional materials also frequently use hot foil printing. Ads for sales, concerts, and brochures and booklets can all be printed with various hot foil techniques, including embossed looks.
Many companies also use these machines for stationery and letterhead production. Having custom stationery and letterhead options brings attention to a company and makes it appear more professional.
Companies and organizations may also use a hot foil machine to create invitations to galas and promotional events. Invitations that contain foil lettering and designs stand out more than other types of printing options.
Conclusion
It is clear to see that hot foil machines are an invention that has helped printing companies offer more options to their customers. Foil lettering and designs are used for many printing options, for both personal and professional.
With companies such as SBL creating innovative printing machines, hot foil stamping continues to be a popular choice for commercial printer customers. With the latest innovations, it will be interesting to see how these printing machines evolve over the next ten to twenty years.
Also Read: How Can We Duplicate Our Mobile Screen On A TV And Transfer Content