Exchange Servers requires regular maintenance to prevent downtime and data loss due to common issues, such as server crash or abrupt shutdown, and protect the server from various malicious attacks.
Besides keeping a check on the Exchange server's health and installing updates, an Exchange administrator is also required to perform various other maintenance operations to ensure smoother operation, protect the server, database, and avoid downtime.
Exchange Server Maintenance Checklist for Administrators
While you cannot prevent disasters or data loss, you can follow our Microsoft Exchange Server maintenance checklist for administrators to minimize the risk and disruption when disaster strikes.
1. Create Verified Backups
Backups are critical. Regular backups help prevent permanent data loss and restore services after a server failure or database corruption due to hardware and software failures or malicious attacks.
A Volume Shadow Copy Service or Volume Snapshot Service-based (VSS-based) backup is recommended for Exchange servers using an application-aware backup utility, such as Windows Server Backup. It helps recover from catastrophic server failure, database corruption, and restore deleted mail items and mailboxes. Besides, it automatically purges the transaction logs after the backup, which helps conserve the storage space and prevent issues, such as database dismount or dirty shutdown, due to low storage space.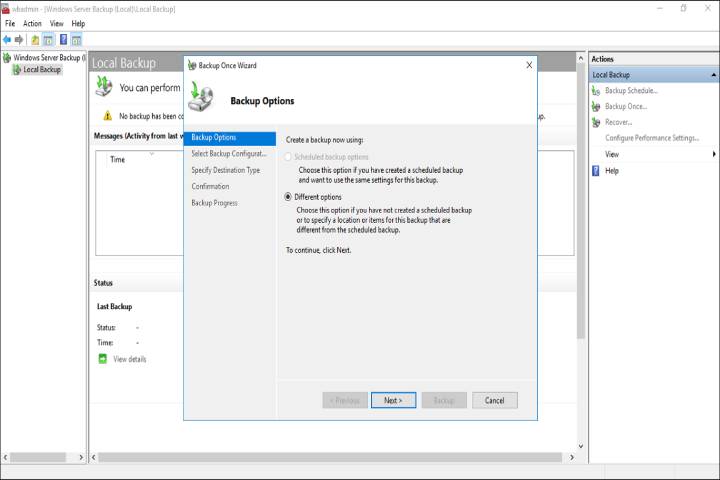 However, backups may get damaged or may not work and fail to restore data when needed. Thus, it is also critical to verify the backup after it is completed. If you find issues, create new backups.
You may also manually back up the Exchange mailbox database files and keep an Exchange recovery software handy. An Exchange recovery software, such as Stellar Repair for Exchange, helps recover mailboxes from inconsistent, corrupt, or damaged Exchange database when backups are damaged, obsolete, or unavailable. It helps you restore mailboxes from a crashed or damaged Exchange server directly to a new Live Exchange Server or Office 365.
2. Install Windows and Exchange Server Updates
Microsoft regularly releases various cumulative and security updates to introduce new features, resolve security risks, patch critical vulnerabilities, fix bugs, and improve server performance.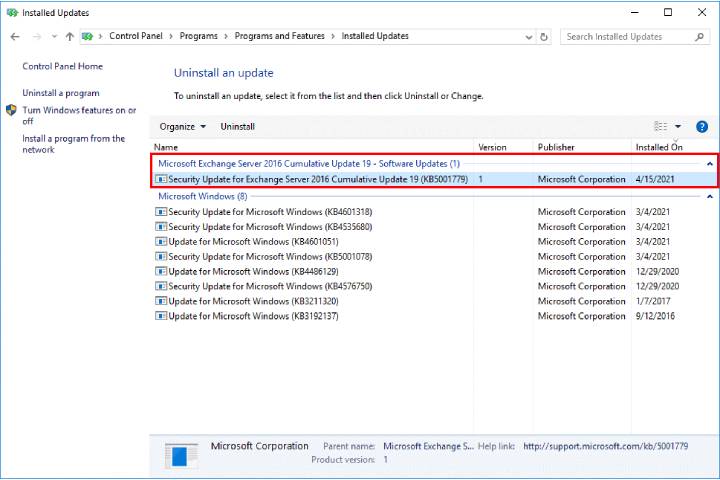 However, threat actors are often seen taking advantage of updates released by Microsoft to attack vulnerable and unpatched servers. Thus, it's important to install the updates as they arrive.
Failure to do so may allow the threat actors to compromise your Exchange Server, install malware, web shells, and backdoors to encrypt the data, which can bring your organization down to its knees.
To learn more on recent attacks on Exchange Server, vulnerabilities, flaws, and their fixes, refer to this guide. If you can't update your Exchange Server for a while, harden the security or lock down the server until it's updated and patched.
3. Check Server Resources
Keeping an eye on server resources, such as disk, memory, and processor, and their utilization can help prevent most issues with the Exchange Server.
For instance, low storage space on a server can prevent the Exchange Server from creating new logs and updating the database that can lead to severe consequences, such as messaging failure (prevent users from sending or receiving emails), database corruption, and downtimes.
You may conserve storage space, as mentioned earlier, by creating regular VSS-based backups that automatically purge transaction logs, creating more free space for new logs.
NOTE: Never delete the transaction logs manually to free up storage space as it can lead to database corruption. If required, enable Circular Logging (although not recommended) to purge transaction logs.
Similarly, high CPU or memory utilization can also adversely affect the server performance and lead to problems, such as failed connectivity, email flow issues, slow login, etc.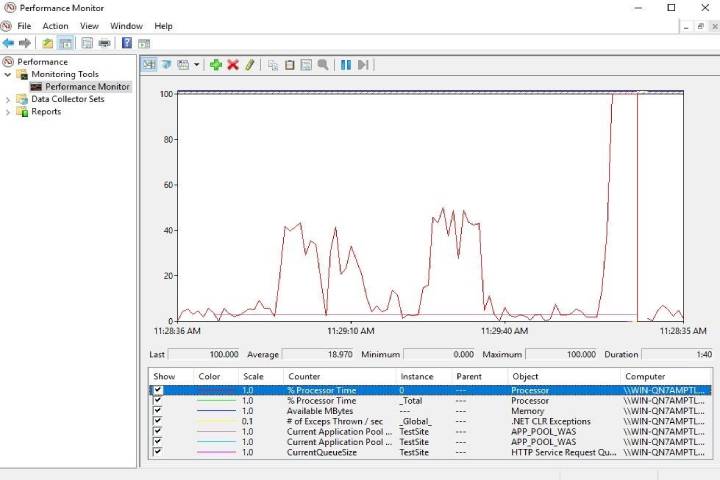 Thus, check the resource utilization periodically and upgrade the hardware or software, if required, to prevent disasters.
4. Analyze Logs
In Exchange, all traffic goes through Internet Information Services or IIS. Exchange Server generates IIS logs that store information related to AutoDiscover, HTTP/RPC, HTTP/MAPI, EWS, EAC (ECP), and OAB connection.
An Exchange administrator can analyze these IIS logs to check the server performance and monitor the web services. It also helps find various connections and performance issues that can help you prevent downtimes and major disasters before they strike.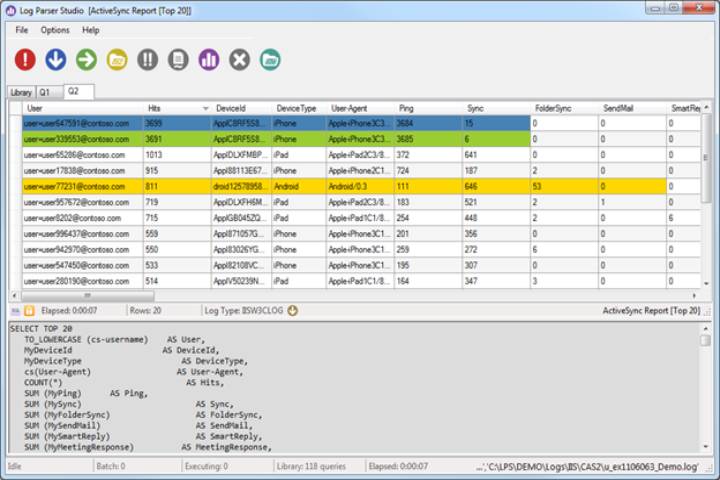 Use the Log Parser Studio utility to search and analyze IIS logs and create reports.
5. Run Integrity Checks
In the Exchange Server environment, it is important to run regular integrity checks on the database to fix errors and integrity issues that can lead to database dismount or corruption.
If a database has failed or dismounted, an integrity check can help you find the issue, which you can repair using the EseUtil.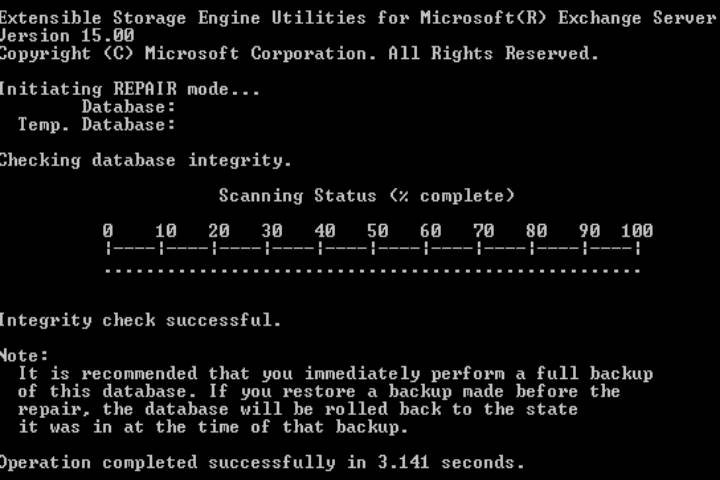 You can use the IsInteg in Exchange Server 2010 and earlier versions to run integrity checks on the Exchange mailbox database. Use the New-MailboxRepairRequest cmdlet (successor of IsInteg in Exchange 2010 SP1 and later versions) to run integrity check and repair a single mailbox or the entire database without dismounting the database.
NOTE: Back up the database before running integrity checks and ensure the server has enough free storage space. A backup will help you recover mailboxes in a rare case scenario where the Exchange mailbox database may get damaged during maintenance tasks.
You may also use Exchange recovery software to recover mailboxes from the inconsistent, corrupt, or damaged database and restore them directly to a new database on a live Exchange Server or Office365.
To Wrap Up
By following the Exchange Server maintenance checklist discussed in this post, you can ensure server health and prevent common issues that can lead to downtime and halt business activities. This maintenance checklist will also help safeguard servers from catastrophic events, such as database corruption or server failure. For more updates and help, leave a comment.