Solitaire is a classic card game that has been enjoyed by generations of players all over the world. One of the most popular variations of solitaire is Spider Solitaire, which has been a favorite among casual players and serious gamers alike. This game is not only entertaining, but it also requires strategic thinking and can be a great way to unwind after a long day. While the game can be played with physical cards, many people prefer to play online, where they can enjoy the game from the comfort of their own homes.
The rules of Spider Solitaire are very straightforward, and you shouldn't have any problems learning them. Ready to give it a go? With so many websites nowadays, you don't want to waste too much time picking the one you like.
In this article, we've compiled a list of seven of the best websites for playing Spider Solitaire online. Whether you're a beginner or an experienced player, these websites offer a variety of levels, customization options, and features to suit your needs. So, get ready to test your skills and have some fun with Spider Solitaire!
Spider Palace
Spider Solitaire is an adored classic card game by many. If you're searching for an online version of the game, then you need not look any further than Spider Palace. This rendition of Spider Solitaire remains true to the original gameplay, offering you the chance to take on one of the most challenging solitaire games from the comfort of your own abode.
The graphics are sharp and modern, and the cards are easy to decipher. The game also provides some exciting customization options, such as the ability to select from three difficulty levels, as well as various background themes. Additionally, you can save your progress and return to the game at any time.
Overall, this is a superb choice if you're seeking a reliable and thrilling online version of Spider Solitaire. If you're a fan of the classic game, then you will not be left disappointed!
Solitaire Paradise
Solitaire Paradise presents Spider Solitaire that's compatible with all devices. Players can select from three levels of difficulty, namely easy, medium, and hard. As you progress through the game, you are faced with more challenging puzzles, enabling you to enhance your skills. Moreover, there are accomplishments that can be unlocked as you play, giving you a feeling of gratification and inspiration.
The visuals and sound effects are straightforward yet impactful. The cards are easily distinguishable, and the interface is user-friendly and unambiguous. Furthermore, the application incorporates beneficial clues that enable you to make informed judgments while playing.
If you are searching for an excellent way to kill time or simply want a basic yet enjoyable game, Solitaire Paradise is unquestionably worth exploring. With its diverse difficulty levels and helpful cues, it is guaranteed to provide you with countless hours of entertainment.
Solitaired presents itself as the ultimate destination for spider solitaire enthusiasts. With a vast collection of games at your disposal, Solitaired provides players with a variety of ways to relish this classic card game. Whether you are a newcomer seeking a simple and entertaining game or a seasoned player in search of an advanced challenge, Solitaired has the perfect game for you.
The platform boasts both single and multiplayer options, enabling you to compete against your friends or test your abilities against the computer. Additionally, with daily challenges, tournaments, leaderboards, and other competitive events, there is always something fresh to anticipate.
For those who are unfamiliar with spider solitaire, Solitaired offers numerous tutorials and helpful tips to ensure that everyone feels at ease playing the game. And with the ability to save unfinished games, you can resume your game anytime you choose.
Whether you are a casual enthusiast or a fervent aficionado of card games, Solitaired is the ultimate online destination for indulging in spider solitaire. If, by any chance, you grow weary of playing solitaire, fret not as this virtual haven boasts a plethora of other board and card games for you to explore and relish.
GameSnacks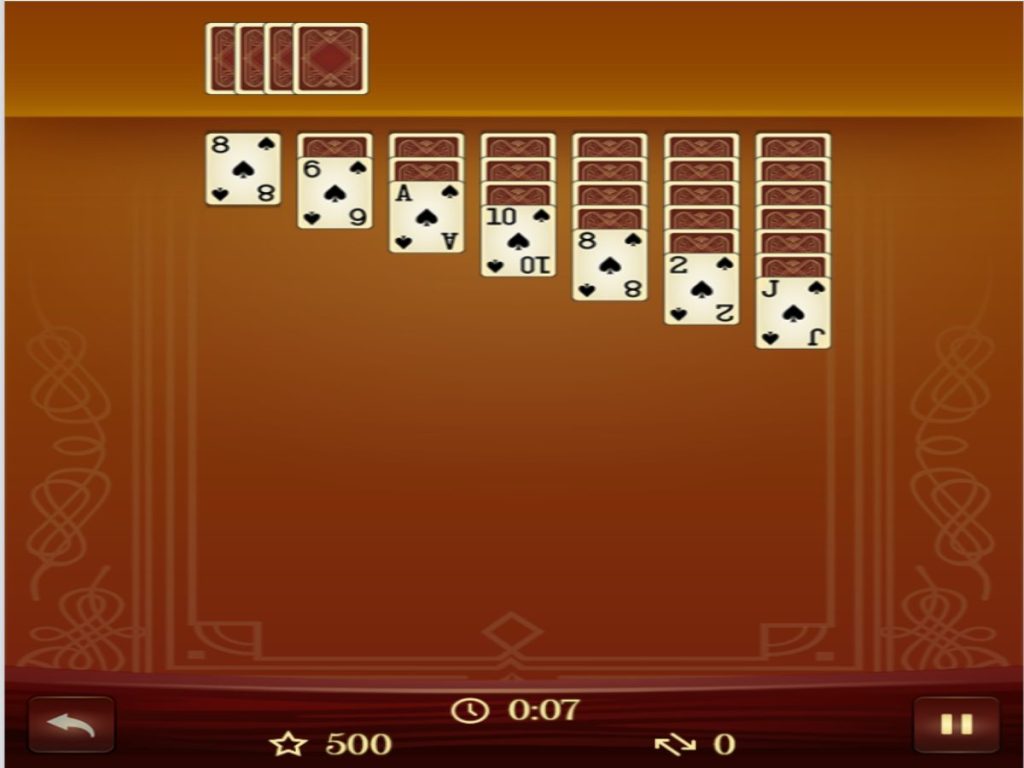 GameSnacks is a website that offers a variety of free online games, including Spider Solitaire. The website is designed for older adults, but anyone can play the games. They offer a classic version of Spider Solitaire, as well as a timed version where you race against the clock to complete the game as quickly as possible.
SpiderSolitaire.org
Another splendid place to indulge in Spider Solitaire. It proffers an exemplary solitaire experience, which is ideal for individuals who relish the challenge of this vintage card game. The game encompasses various levels and intricate layouts, thereby catering to the preferences of even the most adept solitaire players.
Furthermore, it possesses abundant customization options that enable you to select the background color, card size, and card design. Moreover, there are diverse game modes, such as Time Trial and Expert Mode, which add to the game's excitement. With all these options, you can relish a unique experience each time you play.
Spider Solitaire By Branium Studious
Solitaire, developed by Brainium Studios, is a remarkable free application that boasts stunning designs and an exceptional user interface, which is effortless to navigate and guarantees an enjoyable gaming experience. A noteworthy aspect of this game is the Spiderette format, which presents players with a more challenging task and allows them to improve their skills. Moreover, it offers a wide range of customization options, including different card styles and backgrounds.
Other notable features of Solitaire include intelligent clues, unlimited opportunities to undo moves, adjustable suits, compatibility with both smartphones and tablets and the option to compete with your friends and boast on the leaderboard!
Spider Solitaire FRVR
Solitaire FRVR stands out as one of the top free spider solitaire games available online today, thanks to its impressive collection of playable classics. Boasting a multi-million dollar platform, this game caters to spider solitaire enthusiasts with its green deck and eye-catching card designs, which add to the overall enjoyment of the game.
In addition to its engaging gameplay, Solitaire FRVR offers an array of customization options that allow you to personalize your experience to your liking. With these features at your fingertips, you can easily tailor the game to suit your preferences. For those seeking a top-quality solitaire experience online, look no further than this exceptional platform.