While the Apple iPhone Pro 11 has become the first iPhone to go for a triple rear camera system, the ZenFone 6 from Asus stands out for offering a motorized dual-camera module that works as both a primary and secondary camera. The Honor 20 Pro and Huawei Mate 30 Pro also has a place in this article. The first places special emphasis on its photographic section, and the second draws attention (among many other details) for integrating a 6.53-inch OLED screen with an 88º curvature.
As for the LG G8X ThinQ Dual Screen, the most outstanding thing is its system of two 6.4-inch screens (also OLED) joined by a 360º hinge to enhance multitasking. The cases of Motorola (with its Razr) and Samsung (from the hand of the newcomer Galaxy Z Flip) are special when giving a twist to the classic shell-shaped terminal from a few years ago but adapted to today.
Smartphones In 2020
Apple iPhone 11 Pro
It is the first iPhone in history to integrate a triple rear camera that combines an ultra-wide-angle, a wide-angle and a telephoto lens.
Matte textured glass and stainless steel design for the apple company's latest flagship to date. Although we have focused on the Pro version, there is another one called Pro Max. Both are almost identical and the main difference is that the screen of the latter is slightly larger, 6.5 inches, and its resolution slightly higher. Having a larger panel, the dimensions and weight of the iPhone 11 Pro Max are also: 158 x 77.8 x 8.1 mm, and 226 gr.
Certified with the IP68 protection level, the screen is a 5.36-inch Super Retina XDR panel with 2,436 x 1,125 pixels of resolution that stands out for its brightness and counting, being able to enjoy the HDR content. Its nerve center is chaired by the A13 Bionic chip and also incorporates a CPU and GPU up to 20% faster than those used by the A12 chip. The capacities of the A13 Bionic chip are so high that it has been designed for machine learning; in fact, the new machine learning accelerators it implements allow the CPU to process more than 1 trillion operations per second. The operating system you have installed in iOS 13.
The operating system is Android 9 and it is combined with a new redesigned interface for smoother user experience. This interface, which has been dubbed ZenUI 6, has a cleaner appearance and provides faster and smoother movements. Also noteworthy is the presence of OptiFlex. This functionality accelerates application recharges and recharges and saves power in standby mode by recognizing the user's favorite applications. It also maintains the most used applications loaded in memory so they are always ready to go.
correction included. With Free Angle mode, the Flip Camera can be placed in any perspective, giving users the freedom to frame their photos from high or low angles without having to adjust to awkward shooting positions.
Honor 20 pro
Dynamic holographic design, 4,000 mAh capacity battery or quad rear camera are some of the most attractive claims of the proposal of Honor Smartphones.
The model with which Honor participates in this comparison is the 20 Pro device, which takes special care of its aesthetics thanks to a dynamic holographic design. To this feature, it is added that its creators have incorporated a crystalline mirror and a back panel with 3D glass.
With dimensions that are within the average (154.6 x 73.97 x 8.4 mm) and a weight of 182 grams, it integrates a 19.5: 9 panel of 6.26 inches and a resolution that reaches 2,340 x 1,080 pixels. At the top of this screen is the front camera for 32-megapixel resolution and f / 2.0 selfies that support 1,080p quality video recording.
Already in the back, we located a complete camera system that has been completely redesigned to offer the user a wide range of photographic and creative possibilities. The main camera is presided over by a 48-megapixel sensor and – to it – its manufacturer has added a telephoto lens with a superzoom of up to 30x, a wide-angle and a super macro lens with 2-megapixel resolution. Another detail to take into account, within this photographic section, is that the terminal has four-axis OIS (optical image stabilizer) in the main and telephoto cameras. Specifically, this OIS works with the Kirin 980 chip included in the smartphone: among other benefits, this allows real-time lens compensation that minimizes the movement of the object 'to be captured'. This processor, created by Huawei
Huawei Mate 30 Pro
It sports an infinite screen design that does not go unnoticed thanks to a 6.53-inch OLED screen equipped with an 88 ° ultra curve.
With a thickness of 8.8 mm and IP68 certification, its aesthetics -based on the Mate 20 series of the Chinese manufacturer- incorporates details with a futuristic touch. The bezels are thinner and feature a 6.53-inch OLED screen with 2,400 x 1,176 pixels of resolution. This panel has the particularity of curving at an angle of 88º to maximize the viewing angle. Likewise, the firm has developed a new lateral touch interaction function for this terminal. What does this mean? That the physical side volume buttons have been replaced by virtual keys, and the user can customize the position of the volume key on both sides
It has, in another order of things, a fingerprint on the screen and 3D facial unlocking. How does it respond in terms of performance? The user experience is positive thanks to the chosen processor. This is the Kirin 990 model, which is combined with an 8 GB RAM and 256 GB ROM expandable with a microSD. As for the battery, the terminal expands the capacity offered by the Mate 30 device and goes from 4,200 mAh to 4,500 mAh. In addition, its recharge is compatible with both wired (40W) and wireless (27W) fast charging technology. Meanwhile, the operating system it incorporates is Android 10 and it comes with the EMUI 10 customization layer, the latest that the manufacturer has released to date.
LG G8X ThinQ Dual Screen
Power multitasking by integrating two 6.4-inch OLED displays that are linked together through a 360º opening hinge.
It is a Smartphone designed for multitasking thanks to its two 6.4-inch FullVision OLED screens with 2,340 x 1,080 pixels of resolution. Both panels remain joined by a hinge with 360º opening, guaranteeing the usability of up to three applications at the same time. Additionally, the user can check what time it is, the battery charge, the notifications of their apps or answer / hang up a call without having to open this double screen thanks to a small 2.1-inch notification screen located outside of the phone.
Along with this versatility, the Korean smartphone opts for two other key concepts: security and resistance. In the case of the first criterion, its developers have integrated the fingerprint reader on the main screen itself (bottom). For the second of the criteria, this G8X ThinQ Dual Screen has passed very strict tests that have allowed it to obtain military MIL-STD certification. It also shares with many other models its resistance to water and dust (IP68 standard).
Motorola Razr
The firm, owned by Lenovo, recovers the classic shell format and adapts it to the new Smartphones to the times with a flexible 6.2-inch screen.
Motorola participates in this article with the evolution of one of its iconic phones. This new Rarz is a smart device in a shell format that stands out for incorporating a flexible screen for the user to enjoy a different experience. In this sense, what the external screen shows is transferred to the interior once the smartphone is opened. However, through this same external screen, it is possible to consult the received notifications, take a selfie, make a call, control the music that is heard or answer a message. Even make payments thanks to NFC technology.
While the first of these panels has a screen size of 2.7 inches and 600 x 800 pixels of resolution, the second -of flexible design- offers a viewing area of ​​6.2 inches and 2,142 x 876 pixels of resolution with a ratio of 21: 9. For its manufacture, the multinational has used (among others) stainless steel and Corning Gorilla Glass protection for greater durability. It also has an anti-splash coating and is waterproof.
Nokia 9 PureView
Its main claim is the system of five lenses with ZEISS optics that integrates at the rear, each with 12-megapixel resolution.
With a thickness of 8 mm and a machined aluminum chassis, the Nokia 9 PureView has been provided with a Corning Gorilla Glass 5 that reinforces its durability both in the front and rear. If we focus on the front, what we discover is a 5.99-inch 2K resolution POLED panel provided with a technology called PureDisplay: one of its most outstanding benefits is that it offers support for HDR10 resolution so that the contents are Show off with bright colors, great contrast, and sharp details. The fingerprint sensor is integrated into the screen itself, although it also has an unlock function through facial recognition.
La parte trasera del terminal destaca por integrar un conjunto de cinco lentes con tecnología ZEISS Optics, de modo que cuando se va a proceder a una captura todas las cámaras funcionan a la vez y el teléfono las combina para ofrecer una instantánea de 12 megapíxeles de resolución. Para el desarrollo de este sistema, la compañía finlandesa ha apostado por dos sensores de color y tres monocromáticos: al trabajar a la vez, son capaces de capturar hasta 10 veces más cantidad de luz en comparación con un único sensor del mismo tipo.
To process and combine the images, the terminal has maximized the architecture of the Qualcomm Snapdragon 845 mobile platform that it uses. It also has a special image coprocessor that individually adjusts the exposure and white balance of each camera in each specific scene. At the photographic level, the user can capture images in the RAW "DNG" format without compressing them for editing on the smartphone itself thanks to the agreement reached with Adobe Lightroom.
Samsung Galaxy Z Flip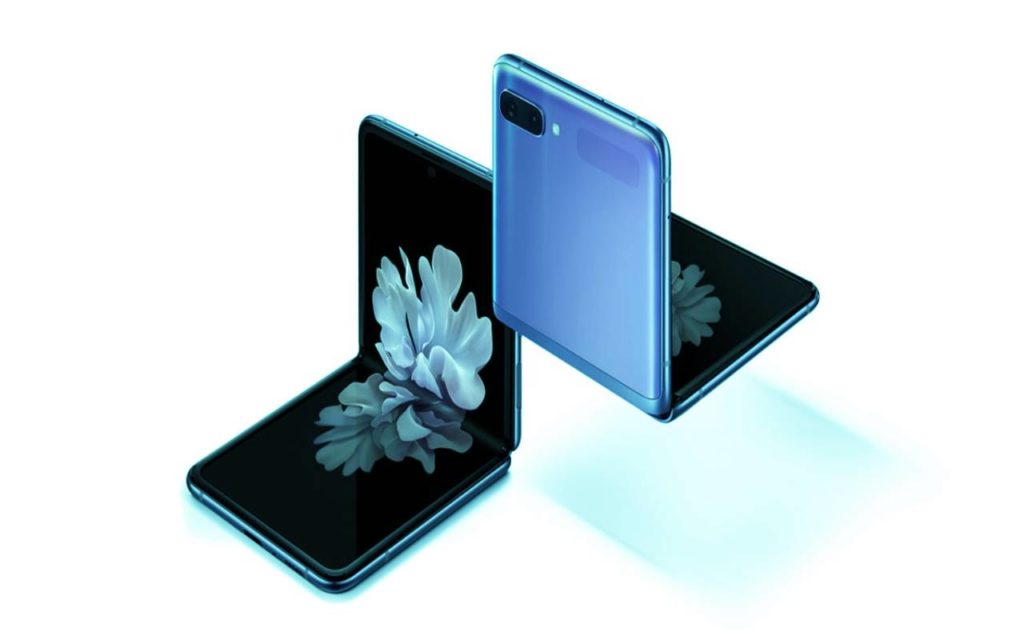 First smartphones of the Z series of the firm and it is characterized by integrating a 6.7-inch folding glass screen.
With this terminal, the Korean firm wants to break all design schemes and offer the user a completely different mobile experience and in line with another terminal that participates in this article: the Motorola Razr. The Galaxy Z Flip features a 6.7-inch FHD + folding AMOLED glass screen with a 21.9: 9 aspect ratio when fully deployed. It should also be noted that it is the first Samsung model to offer this aspect ratio. With a weight on the scale of 183 grams, folded its dimensions are 87.4 x 73.6 x 17.3 mm. Notifications can be viewed through a small external 1.1-inch screen with Super AMOLED technologies.
The hinge developed by its engineering team, and which remains hidden, is one of the key elements of this device. They refer to it by the name of Hideway Hinge and – thanks to its design and structure – the phone is kept open at different angles, reminiscent of laptop screens. Similarly, the hinge system uses nylon fibers that have been cut to a micrometer height to repel dust and dirt.
compatible with fast wired and wireless charging. It comes with the Android 10 operating system.
Sony Xperia X1
The Japanese manufacturer is betting on a 6.5-inch, 21: 9 screen: 4K and OLED. It also has a side sensor with artificial intelligence.
This Xperia X1 stands out for incorporating a 6.5-inch 4K OLED screen with a 21: 9 ratio that the multinational refers to as CinemaWide. In addition, Sony has explained that for its development it has had the collaboration of a group of engineers belonging to the CineAlta brand digital cinematographic camera team: as a result, the phone integrates a mode called 'Creator' that guarantees accurate color reproduction. Also noteworthy is the presence of a mobile image processing engine that comes from the technology of the brand's Bravia televisions that offer more details, higher contrast and content with more colors. This visual quality is accompanied by a sound experience that bears the seal of Dolby Atmos technology.
With dimensions of 167 x 72 x 8.2 mm and a weight of 178 grams, it shows an elegant and careful design as perceived in the small details. For example, the frame that surrounds the front and rear is metal and glass. In addition, it has Corning Gorilla Glass 6 technology and IP / 68 certification making it resistant (among other elements) to dust and water. The developers of Sony have created for this terminal a lateral sensor with artificial intelligence: it has the particularity of selecting the applications that a person is most likely to use based on criteria such as recent use.
OPPO Reno 10x Zoom 
The ratio of the screen to the body of the phone is 93.1%. Meanwhile, the 16-megapixel front camera is hidden if not used on the Smartphone.
Provided with a 6.6-inch, 2,340 x 1,080-pixel resolution multi-touch AMOLED display (the fingerprint sensor remains built-in), it offers a system that allows you to hide the front-facing cameras inside the phone's body when not in use: In this case, the manufacturer has developed a fall protection mechanism that detects in real-time if the terminal is in free fall and automatically retracts the camera to avoid any damage. At the rear, it combines three cameras: a main 48-megapixel camera, a 13-megapixel telephoto lens and an 8-megapixel wide-angle lens that allows hybrid zoom up to 10x.
With a 93.1% screen-to-body ratio (the phone is 9.3 millimeters thick and weighs 215 grams), it incorporates a 4,065 mAh capacity battery and also features Super VOOC fast charge technology. The technical configuration of the terminal includes the Qualcomm Snapdragon 855 processor, an 8 Gb RAM memory and 256 Gb internal storage. At the audio level, the presence of Dolby Atmos technology stands out.
ZTE Blade V10
The most affordable Smartphones in this comparison offer, among other features, curved design and a 6.3-inch FHD screen with a notch.
Curved design and 6.3-inch notch screen and 2,280 x 1,080 pixels resolution for this model that belongs to the ZTE family of smart devices. With a 32-megapixel camera for selfies, which identifies more than 300 scenes in 'preview' mode, the rear double combines a 16-megapixel resolution sensor with another five.
From a technical point of view, it has an octa-core processor (MediaTek Helio P70) that combines with 4 Gb RAM and 64 Gb internal storage expandable with a microSD card. The battery has a capacity of 3,200 mAh and is recharged through its USB port of class C. In another order of things, indicate that it also has a 3.5 mm headphone jack, 2.4 and 5 GHz Wi-Fi, Bluetooth 4.2, GPS and fingerprint reader as an authentication and security measure. The dimensions of the terminal are 158 x 75 x 8.7 mm and this means, taking into account the 6.3 inches of the screen, that the body-panel ratio is 90.3%. As an operating system, it uses Android 9.0.